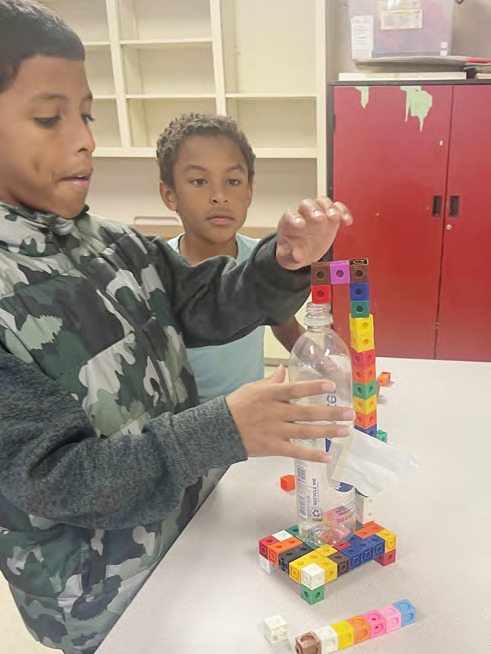 More than $10k granted for FES STEM Labs
Last week, fifth grade students built baking soda and vinegar-fueled bottle rockets on Lego launchpads, then watched their teacher, Sharon Curl shoot them into a clear sky outside of Fredericksburg Elementary School.
A STEM Lab Grant totaling $10,994 from the FISD Education Foundation, requested by Curl, helped make the rocket building project possible, and several more activities are lined up for the rest of the year.
"Receiving the grant from Fredericksburg ISD Education Foundation filled my heart with joy," Curl said. "The smiles, laughter and accomplishment are my favorite moments."
Funds from the grant will also go toward purchasing classroom materials including magnets and Legos for introduction to engineering and circuits to learn about electricity.
Curl, who has been at FES for 16 years as a paraprofessional, said students will be able to have experiential learning and work on collaboration, teamwork and problem solving in the labs.
The FISD Education Foundation awarded 33 grants to teachers this Fall, totaling to over $136,000.
The grant committee of volunteers for the FISD Education Foundation agreed with this years' requests and support what they will do in the areas of science and math for students in Gillespie County.
STEM occupations are projected to grow 10.8% between 2021-2031, compared to only 4.9% growth for all other careers, according to the Bureau of Labor Statistics.
Elementary school students will be a part of this projected growth, and FISD teachers are working to build an interest in Science, Technology, Engineering and Math.
The Fredericksburg Elementary After-School Science Club, led by teachers Jessilyn Schellman and Carol Merril, received a grant of $2,555 from the Education Foundation and is available for second through fifth graders in science.
"By encouraging kids to pursue STEM, they'll be prepared to find an exciting career within a wide range of options and increasing demand," said Tracey Robledo, FISD director of Grants and Development. "Students will complete projects while learning and applying knowledge to find new solutions."
This year is the first year FES will have a STEM Lab. Curl emphasized the importance of students having active participation in STEM learning, and the class will help them to develop critical thinking, the scientific method and design process.
"I am so proud of Fredericksburg Elementary School educators and their vision to make sure that our students have handson learning opportunities in these important areas," Robledo said. "These educators are creative, innovative and truly have a heart for kids and do amazing things every day to help their students learn."