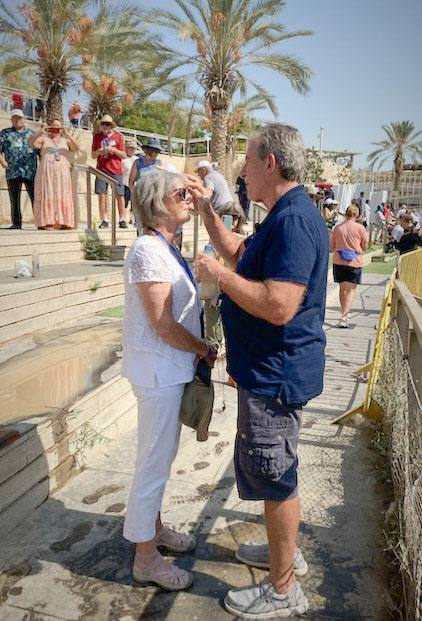 A walk through Israel
Before Fredericksburg resident Debbie Bradford went on a Bible tour to Israel, people in her life warned her to not go, but she said the trip was safe and a "once-in-a-lifetime thing."
Just one month later, the war began.
"We never felt unsafe, or anything," she said about her Sept. 1-10 trip. "I'm glad I went, but I don't think I'll ever go again."
On Saturday, Oct. 7, Hamas militants from the Gaza Strip crossed into Israel, and have since killed over 1,400 people and taken hos-tages. More than 2,700 Palestinians have died from Israeli air and artillery strikes in the conflict, according to ABC News.
As part of a trip with her daughter's church, Shepherd of the Hills Lutheran in San Antonio, Bradford traveled to what is considered the "Holy Land" to see sites throughout the region.
On the trip, Bradford visited Nazareth, Bethlehem, Jerusalem, the Jordan River, the Sea of Galilee and the Dead Sea.
She said their 10 days were filled with sightseeing. The group of 33 spent most of its days in the north and central parts of Israel and in the West Bank.
"It was thrilling just to be on this path where everybody walked," she said, mentioning figures from the Bible.
At the Jordan River, retired pastor, the Rev. Doug Bielefeldt, the group's guide, repeated baptismal vows for Bradford. They stood in the location where John the Baptist baptized the first Christians.
She explained how incredible it was to experience the opulence of the Church of the Holy Sepulchre in Jerusalem — where Jesus' crucifixion is thought to have been.
In efforts to protect the land, a church was built around the area, which eventually became a museum. Rather than a place of prayer, it's a place of spectacle, Brad-ford pointed out.
"That was kind of a surprise to us," Bradford said. "The sites were not what we envisioned."
"You've got to use your imagination, but the one place you don't, is the Sea of Galilee," Bielefeldt said. "The sea today is pretty much the sea that was there when Jesus and the disciples were on the water.
"That's probably one of my favorite places to visit, because you get a good sense of what it might have looked like 2,000 years ago," he said.
Bielefeldt led the group through Israel on his fourth trip to the region as a guide.
He described the trips as three-dimensional experiences of the stories his group members have grown up with.
They were told there was an increased presence of military in the West Bank and Bradford said surveillance was high everywhere they went and their Bible Journeys tour guide, Dr. Raed Karborahi, said there had been recent increased occupation in the Palestinian West Bank.
There, Bradford was warned to be more cautious and stay close to the group.
Bielefeldt said, "Nothing felt different on this last trip. You would have never known what was going to happen within 30 days was going to happen."
He explained many are tentative about deciding to go on the tour but he and his wife, Nancy, love going and showing the holy sites to people.
"We have always felt welcomed, and very safe in Israel," he said, emphasizing that the places they go are tourist heavy.
Bielefeldt called it a "beautiful, peaceful place."
The group had the benefit of having, Karborahi, a local, as their guide.  He was raised in a town outside of Jerusalem, but moved to Niagara Falls, Canada, to have his family.
Adel Habash, the tour group's driver, currently lives in a small town outside of Tel Aviv. On Wednesday, Oct. 11, Bradford was notified by Bielefeldt of two air-strikes near his home on Oct. 7. Bielefeldt reported Adel is safe and still in Israel.
While in Jerusalem, Bradford said her group was told about nearby unrest at a checkpoint from the West Bank. But she said they never felt unsafe on the trip.
Since she returned, Bradford has kept in contact with members of her tour group, including Habash.
After Tel Aviv's Ben Gurion Airport cancelled flights Oct. 9, a group of Bible Journeys tourists from Concordia Lutheran Church in San Antonio traveled to Amman, Jordan to return to the United States. They arrived home Oct. 16.
"All is well as far as our group is concerned," said Concordia Senior Pastor, the Rev. Bill Tucker in an Instagram video up-date about the tour group.
The next several Bible tour trips through Shepherd of the Hills have been cancelled.
"I usually don't even watch the news," Bradford said. "But this was of such interest because of the places they were talking about."
"It just breaks your heart," Bielefeldt said. "I hope to continue taking groups. We'll just have to see what unfolds in the coming days and weeks."