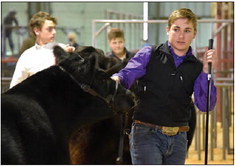 Agriculture
August 23, 2023
Lehne is state champ in beef contest
Cade Lehne of the Fredericksburg FFA Chapter was named the Texas FFA Beef Production Proficiency Award champion at the 95th annual Texas FFA State Convention held July 10-14.
Lehne adds his name to the list of 12 other statewinning proficiencies for the Fredericksburg FFA Chapter since 2015.
The Proficiency Award program encourages members to set personal goals and learn practical skills. The program provides recognition to FFA members for exceptional accomplishments and excellence in their Supervised Agricultural Experience (SAE) programs.
Lehne's SAE is his diversified cattle operation that includes Brahman breeding cattle as well as show steers. His program goes all the way back to his freshman year in high school and will continue while he is in college attending Redlands College where he is on the livestock judging team.
The Supervised Agricultural Experience program is an individualized application process that focuses on activities beyond scheduled class time and has been a standard part of agricultural education since 1917. Students' SAEs may be entrepreneurial enterprises, employment experiences or research projects.
Lehne's application won both district and area competitions before being considered by the stateselected committee in early June. His application competed at the national level and received a gold rating by the National FFA Proficiency Committee.
The 95th annual Texas FFA Convention was attended by approximately 15,000 members and guests.
Members of the state's largest agricultural youth leadership organization spent the week attending leadership workshops, participating in events and activities, being recognized for their achievements, and serving as the legislative body for the Texas FFA Association.
The Texas FFA is the nation's largest state FFA association with a membership of more than 169,000. FFA gives students the opportunity to apply practical classroom knowledge to real world experiences through local, state and national competitions.