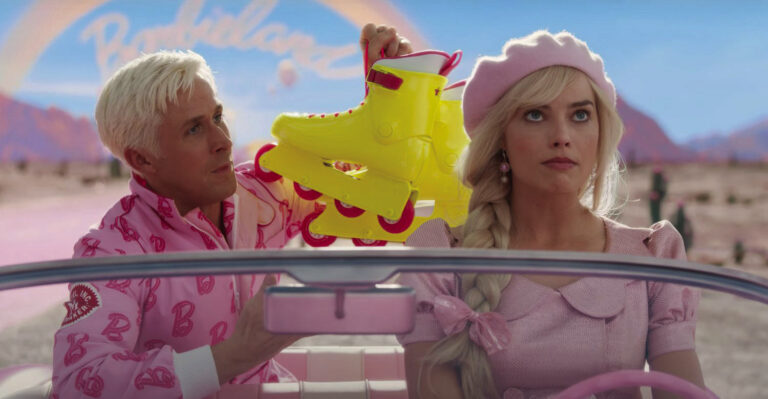 Barbie, let's go party
Gerwig smashes another home run with cheery, emotional fantasy comedy about legendary doll
Cinematic Considerations
Somewhat surprisingly, "Barbie" is for everyone. Sure, writer/director Greta Gerwig's latest film is cheery and pink and filled with dream houses, audacious costumes, and endless summer. But beneath the surface, there is a deep complexity to both the character of Barbie and the overall film as a whole that can truly resonate with both men and women of all ages.
It's completely baffling that a film like this can even get made considering how guarded companies like Mattel are with their intellectual property, but the "Barbie" audiences see in theaters is one of the most carefully composed, well thought out and put together comedies this decade with smart clever writing, nuanced character development and an emotional poignancy that will resonate with any audience willing to give the film a true chance.
The film sees Margot Robbie's Barbie sent off into the real world in order to figure out what has gone wrong from her seemingly perfect Barbieland dream life and along with Ryan Gosling's Ken, the pair find that neither Barbieland nor the real world are as idyllic as they had hoped or imagined.
Robbie begins her turn as the iconic children's doll with a relentless, bubbly enthusiasm that slowly, but markedly turns more emotional and complex as Barbie is infused with existential dread as she realizes that humanity and the real world aren't nearly as kind to women as Barbies are to each other.
It's a performance that many are going to overlook on a first watch because their gaze is going to be much more broadly focused on the flashier elements of the movie and the overall aesthetic, but Robbie brings Barbie to life — quite literally — in subtle ways that make her the steady constant in Gerwig's world to help make larger points about the toxicity of societal conventions and the desire to be more kind to not only others, but to yourself, as well.
Audiences leaving "Barbie" will most likely be talking about Gosling's hysterical, out-of-character turn as the "him-bo" Ken, a beach loving guy whose naivety turns brash once Ken is presented with a male dominated world so different from this own.
Gosling relishes each and every moment on screen and his comedic timing is impeccable to the point that it will often feel as if Ken is stealing the spotlight away from Barbie, which may be something Gerwig wants at certain times in the film to help highlight the idea of people treating each other as accessories to their own existence rather than unique individuals.
The film's ensemble cast is incredibly deep with terrific comedic and dramatic performances, especially Michael Cera as the awkward "buddy" Allan who fits in with neither the Barbies nor the Kens and America Ferrera's Gloria, one of the few humans in the film who completely devastates the narrative with a pitch perfect monologue to kick off the third act that could be some of Gerwig's finest writing.
The world of "Barbie" is exceptionally layered and grandiose, both from a writing perspective, but especially from its elaborate production design, which brings Barbie's dream world to life with a pink/blue technicolor hue that pops off the screen at every turn. While it often feels like the acting pulls audiences away from remembering that 85 percent of the characters in the film are portraying dolls, the world of Barbieland itself emphasizes this almost cartoonish imagination that one might argue is like seeing the inner mind of young Gerwig playing with Barbies and Kens.
Although a Gerwig film is almost certainly an awards season contender based on her track record alone, "Barbie" feels like an absolute shoo-in for nominations in numerous Oscar categories next year, including screenplay, production design, costuming, hair and makeup. It's also within the realm of possibility that the popular, catchy tune, "I'm Just Ken" could be an original song contender and Gosling is the most likely candidate to receive an acting nomination for supporting work despite the fact that Robbie is equally deserving of a lead actress nod.
There will be viewers who will misinterpret Gerwig's narrative either through bad faith or because they refuse to believe that a quirky fantasy dramedy could have that much heart and kindness without an ulterior motive or agenda.
"Barbie" is not for them. But audiences willing to keep an open mind and an open heart as they drift back to their childhood days will find "Barbie" to be an absolute romp of a good time with very nuanced, poignant motifs that will truly resonate for women and a decent majority of men as well, making it a must see in theaters with or without an "Oppenheimer" double feature.
Matt Ward is a programmer for the Hill Country Film Festival and local film critic, who is also an official Rotten Tomatoes reviewer. Continue the conversation online at www.cinematicconsiderations.com